Stupite u kontakt s nama
Telefon
Austrija
Tel.: +43 732 257700
Kontakt
Rado ćemo odgovoriti na vaša pitanja.
>Kontakt
22.10.2021
16-18 Nov: KVT / Bossard at Automotive Hungary Expo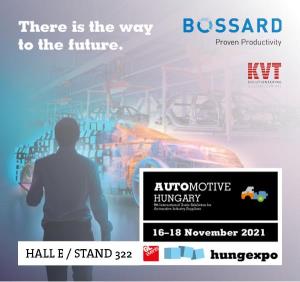 On 16 - 18th November 2021, KVT-Fastening and Bossard will be presenting innovative solutions for the automotive industry at the Automotive Hungary Expo.
Nearly a decade ago, Automotive Hungary Expo was created as a meeting forum for the stakeholders of the Hungarian automotive industry: car manufacturers, suppliers as well as small and medium enterprises. The event has always been dedicated to showcasing the latest technologies and trends so it's natural for us to focus this year's exhibition and the related conferences on artificial intelligence, 5G, electric drives, and industry 4.0. Recently, the event has also attracted more exhibitors and visitors not only from Hungary but also from other neighboring countries.
KVT-Fastening, together with Bossard, will showcase the fastening solutions for the automotive industry, as well as the assembly services including Smart Factory Assembly and Assembly Technology Services. Whether it is the fastening for the car body, interior, exterior, chassis, or battery, KVT and Bossard have the ideal solution for each application.
Visit us on 16th - 18th November 2021 at the Automotive Hungary Expo.
Want to reserve an appointment with our local sales engineers?
Andreas Hambloch - Technical Sales Engineer (HU)
andreas.hambloch@kvt-fastening.com
We look forward to meeting you in person there!