Stupite u kontakt s nama
Telefon
Austrija
Tel.: +43 732 257700
Kontakt
Rado ćemo odgovoriti na vaša pitanja.
>Kontakt
15.12.2022
Quality assured, production optimized and costs saved!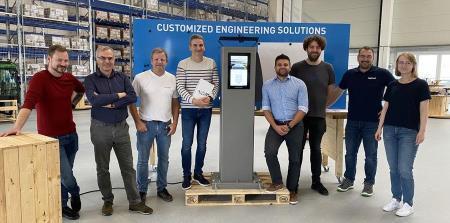 International Bossard team with Expert Teardown of an EV charging station
When theory is successfully implemented in practice. Rarely does this happen as vividly as with the Bossard Engineering Service Expert Teardown, when products and machines are broken down into their individual parts and fastening elements in order to determine their optimization potential in production.

And it gets particularly exciting when our experts from three nations are at work and pool their know-how and their different experiences and approaches for the best possible solution in a mutual exchange.

This happened recently in Linz, Upper Austria, where on the initiative and under the direction of Dr. Frank Heinrich-Krell (Vice President Assembly Technology, Bossard Group), eight Bossard experts from Germany, Austria (KVT) and Italy jointly carried out an expert teardown on an EV charging station. The idea behind it: The multidisciplinary expertise and experience enable ideas and solutions that one would not find alone.

Pre-launch certainty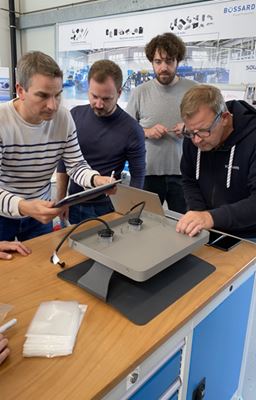 Before the large-scale market launch of its charging station, the manufacturer wanted to make sure that there wasn't a better, cheaper and simpler way. And at the end of the day he knew: There is always a simpler, cheaper and better way, especially when fasteners are scrutinized.

In addition to the "main winner" customer, the experts also benefited from the cooperation. Engineers and technicians know how important the application-specific experience of others and the ability to think outside the box and beyond national borders are.

First things first: The manufacturer of the EV charging station to be examined wants to stand out from the competition with high-quality and practical solutions. The charging system with which it is on the market has, among other things, a motorized retractable and extendable charging cable, LED column lighting, an illuminated cable outlet and a high-resolution, customizable display.

You have to know the problem in order to find the solution

Contact with Bossard came about because a number of screws and blind rivet nuts from the standard range had already been ordered and installed during the development phase. For the start of series production, they now wanted to use Bossard's expert knowledge in addition to the high-quality products. It is based on the awareness that perhaps some solutions were ignored because the problem was not known at all. This is exactly where the Expert Teardown comes in.

Keep an eye on the total costs as early as the preparation stage

Structured approach is elementary. Before the experts put their hands and tools to work, they defined the framework conditions and requirements for an EV charging station. Weather resistance (temperature and corrosion) and durability are part of this, as well as safety against electric shocks and robustness against vandalism.

Above all, however, it was defined what is particularly important to the customer when looking at their total process costs (total cost of ownership): faster and easier assembly, better quality of the connection technology solutions and thus of the charging station as a whole, as well as higher product safety.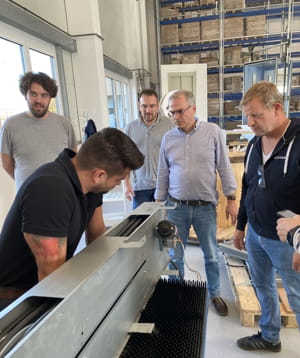 The disassembly and the analysis

The charging station was divided into seven assemblies, which were successively examined: roof cover, front housing, cable outlet shaft, rear housing, control cabinet module, cable module and electronics module.

The detail and the big picture. Screws, nuts, blind rivet nuts, cable fasteners and more - each of the 331 fasteners from six different product groups was carefully examined and analyzed according to its functionality:

Does it make sense at this point? Are there better alternatives, not only in terms of the product itself, but also in the context of the design and how it affects the assembly?

The result: 15 concrete suggestions for improvement

After dismantling the charging station into its fastening elements and analyzing it as a team, our experts developed 15 specific suggestions for improvement and eight general design tips. The bundled know-how and experience allows significant product improvements in terms of quality, durability and safety of the fastening element and the e-charging station as well as the manufacturing and assembly costs.

An example: thread-forming screws in the existing sheet metal applications instead of cut threads or additional blind rivets can quickly save the manufacturer several thousand euros.

Are you interested in an Expert Teardown?

You can find here more information about the Expert Teardown and contact us and let us talk about your project.
Subscribe to KVT Newsletter now and stay updated with our latest product and service highlights!