Stupite u kontakt s nama
Telefon
Austrija
Kontakt
Rado ćemo odgovoriti na vaša pitanja.
>Kontakt
Real time Manufacturing Services
On the following pages you will find help/information about our Real Time manufacturing platform (rms.bossard.com)



Prototype and small series based on your 3D data - The right solution for every application

Bossard supplies a wide variety of turned and milled parts in various materials and variations for the perfect interaction of your products.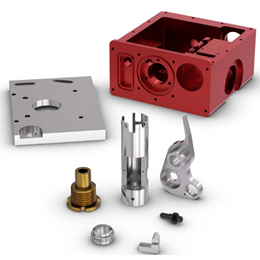 CNC Turning & Milling
Production is carried out by machining on the most modern 4- and 5- axis CNC machining centers, with which the highest quality results are achieved.
Turning parts: from Ø 2 mm to Ø 200 mm, length from 1-1000 mm
Milling parts: max. dimensions 500 mm x 700 mm x 300 mm (L x W x H)
Materials: The most common machinable steels, non-ferrous metals, plastics and many special steels